HOME DELIVERY
Flexible options to meet customer demands, today's realities and your budget.
Today's consumers are shopping online more and expecting more. They're demanding quicker deliveries and that puts a whole new kind of pressure on companies like yours. Tap into our sophisticated infrastructure to keep your deliveries moving and your customers happy.
HOME DELIVERY SERVICES
RE-DEFINING HOME DELIVERY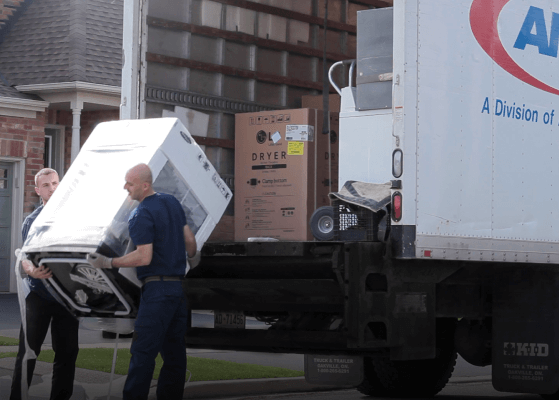 Over 72% of Canadians are shopping online these days, with 59% of consumers saying they buy more frequently from businesses that offer fast, easy and transparent delivery. That puts a lot of pressure on businesses to deliver efficiently, cost-effectively and keep their customers updated in real-time. With 33 connected waypoints across the country, a huge fleet and the backing of the AMJ Campbell infrastructure, we'll help you deliver quickly, and keep your customers coming back, again and again.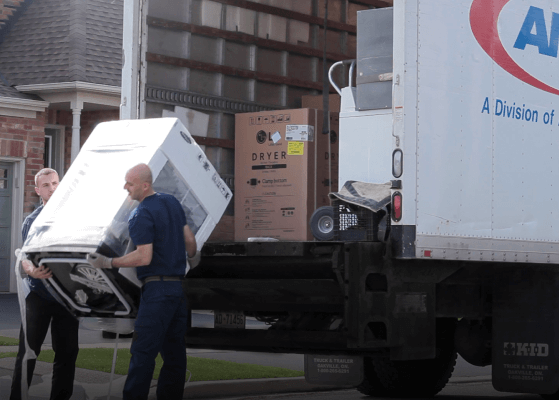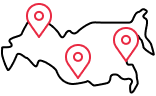 998K
ACCESSIBLE POSTAL CODE
HOME DELIVERY SOLUTIONS
1 / 3
WHITE GLOVE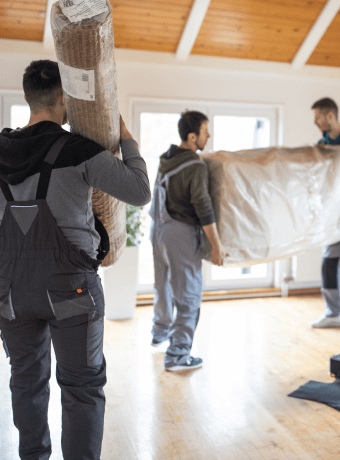 Room of Choice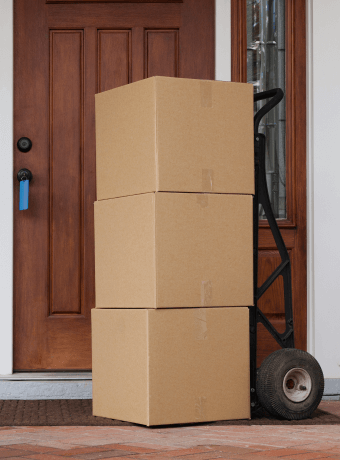 Doorstep
Contactless Pickup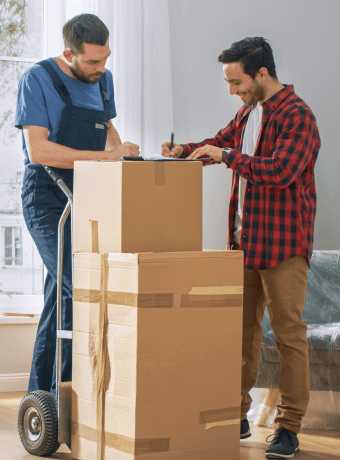 Threshold
WHITE GLOVE
Delivering big items like furniture, appliances, electronics and exercise equipment can be a big challenge. That's where White Glove Service comes in. It begins in our warehouse with Encore's Deluxe Service, when we unpack your shipment to ensure that everything is correct. Next, our PPE-wearing team delivers to your customer's room of choice, unpacks and assembles it for them. Lastly, we dispose of the packing material, leaving your customer's home mess-free. Your customer will acknowledge receipt via our smartphone app.
OUR LOCATIONS
WITH WAYPOINTS FROM COAST TO COAST, WE COVER WHERE YOUR CUSTOMER LIVES
Our 33 home delivery teams situated across Canada means we can coordinate home delivery from anywhere in the country. From major city centres to rural sideroads – and anywhere in between – we can deliver to warehouses, distribution centres, retail locations or even your customers' homes, keeping you on time and on budget
HAPPY PARTNERS
PARTNERS THAT TRUST ENCORE HOME DELIVERY
Companies of all sizes trust us to deliver their products and keep their customers happy. They rely on our sophisticated logistics, 100% tracking visibility and responsive fleet to deliver everything from small parcel deliveries to large items requiring assembly
See Case Study
OUR PROCESS
HOW OUR HOME DELIVERY WORKS
1
RECEIVING: STATE OF THE ART SOFTWARE
We use a sophisticated online platform and GPS and barcode technology, so you know where your deliveries are at all times. Once your item enters our Receiving department, it will be logged on our custom-designed app.
2
SCHEDULING DELIVERY: LOOPING IN YOUR CUSTOMER
Our app notifies you (and your customer) about real-time delivery info as soon as it's available. We'll send an automated email for your customer to pick their delivery slot and alert our people about things like gated security or elevators.
3
DELIVERING TO YOUR CUSTOMER
On delivery day, your customer receives updates including a Time Window Notification, Route Start Notification and 30-60 minute pre-call. Best of all, they can access easy online tracking in real-time, so they always know where their package is.
4
CUSTOMER SURVEY
A happy customer is a return customer. That's why the day after your customer receives their item, we send out a quick 3-question survey to get their feedback on the delivery process. We then share their feedback with you.

SEE OUR ADVANTAGES
FAQS
HAVE QUESTIONS? WE HAVE ANSWERS
Q – Do you use third party service for your deliveries?
A –
Encore is an asset-based network that has a long history of working without having to rely on third party providers. This removes layers of cost and administration, allowing us to be nimbler and provide better service and responsiveness.
Q – When do I get visibility to my orders through the supply chain?
A –
Encore's systems are configurable to provide visibility though out the process, from pickup/receipt all the way through to the final delivery. Furthermore, extensive time and due diligence is spent in scoping out what our accounts need to ensure that their customers get the visibility they need so they are not left looking for information.
Q – Where does Encore Deliver?
A –
Encore is backed by Canada's largest moving company that helps us deliver right to your door. AMJ's network is coast to coast covering where Canadians live. Even in the remote areas, AMJ has locations and methods to make those deliveries happen.
Q – How does Encore put customer service into a home delivery?
A –
We hand-pick and background-check our team to ensure everyone is highly trained in customer service and goal-oriented. This is key because along with customer feedback, this helps drive our KPIs towards success.
Q – What kind of delivery vehicles does Encore use?
A –
Encore works with its delivery partner AMJ Campbell on all deliveries. AMJ has a diverse fleet that ranges from cargo vans through to 26' trucks with tailgates to meet any type of delivery need.
View FAQS